"Bill and Ted 3" in the Works
Alex Winter: "We already have a script."
Hang on for a minute...we're trying to find some more stories you might like.
Since 1991, when the second "Bill and Ted" movie premiered, co-stars Keanu Reeves and Alex Winter have talked about wanting to make a third movie using their characters, Bill Preston and Ted Logan. Until recently, news of a third movie has been nothing but hearsay, including fake promotional websites and "leaked" information on the movie that turned out to be false. Fans of the films were beginning to grow antsy and fearful that a third movie might never happen.
Luckily, in recent months, Alex Winter has confirmed the long-standing rumors: "Script done? Check," he tweets in response to Kelly Carlin (daughter of George Carlin, who played Rufus in the first two movies). There's only one thing standing in the way of production–Reeves and Winter are waiting for the green light.
For those unfamiliar with Bill and Ted, the first film, produced in 1989, centered around two high school boys, best friends and bandmates, William S. Preston, Esq. and Ted "Theodore" Logan. The teens travel through space and time in a phone booth with their awesome time traveller friend, Rufus, in order to complete a report that, if they should fail it, would separate them forever and permanently alter the future. Think "Wayne's World" meets "Doctor Who," and imagine two boys saying words like "excellent," "bogus," "dude," and "heinous."
Fans of the original movies may have a few concerns. Since Winter and Reeves are now in their early fifties and no longer the twenty-something spring chickens they were in 1989, fans might fear a repeat of "Dumb and Dumber To"; they wouldn't want to ruin their fantastical memories of the original movies by watching their favorite characters portrayed pathetically with an unoriginal plot. However, Winter has high hopes:
"The fun thing about [Bill and Ted] is that they're ageless. You play them in terms of who they are spiritually. Their mannerism and physicality are not tied to age. We played them like 9-year-old kids. They still have that quality. The comic potential of that becomes even better as it becomes more discordant. It will be funnier because they're older."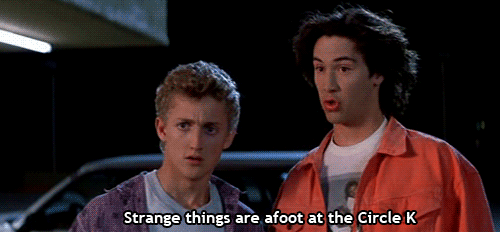 Fans need not fear disillusionment: if Winter's prediction has any credibility, anyone who loved "Bill and Ted's Excellent Adventure" or "Bill and Ted's Bogus Journey" will get everything they want and more from the alleged third film.
They have a script, they're excited about it, and they're not worried about disappointing fans… so what's stopping Reeves, Winter, and supposed director Dean Parisot from going through with the film? According to William Sadler, who played the Reaper in "Bill and Ted's Bogus Journey," it has a lot to do with the death of George Carlin in 2008:
"As I understand it, the biggest problem to overcome is that now that George Carlin has passed, because he was the catalyst, he was [Bill and Ted's] host or their guide on these journeys that they took. He always turned out to be the one who was helping them along, and now that he's gone, you have to write around him."
Knowing that a script exists somewhere out there means the writers have found a way to write around Rufus's character. However, Carlin's death leaves fans wondering–how will Bill and Ted travel into the past and future if Rufus isn't there to guide them? Will the writers replace Rufus with someone new? How would losing or changing his character alter the film, and could that be the downfall of "Bill and Ted 3"?
Either way, let's hope that Alex Winter and Keanu Reeves and get that green light that they need to get on with shooting the film. And let's hope that "Bill and Ted 3" is, as Bill and Ted would say, totally non-non-non-heinous!